MISSION STATEMENT
At Discount Locksmith, we understand you work hard for your money. We strive to give you the most professional service possible at a price you can afford. As a locally owned and operated business, we have built our business and our life right here in NW Arkansas. We care about the community and support other locally owned businesses whenever possible.
Let us give you a free no obligation quote to help you solve your problem. We guarantee that we can help you or we will try to help you find someone who can. As always, we do not charge until the job is completed.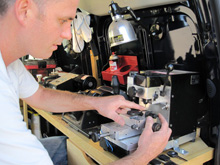 ABOUT US
My first experience as a locksmith was in the Army where I helped civilian contractors provide security work for Ft Huachuca, AZ. After my time in the Army was finished, I worked my way through a Mechanical Engineering degree at the University of Arkansas graduating in the Fall of 2010, at first working for someone else then starting my business in 2005.
It has now been six great years of being self employed and I am proud to serve northwest Arkansas as a locksmith. I try to use my education in day to day operation of my business, problem solving and determining the most economical solutions to fit my customer's needs.